The Dogo Argentino is NOT exempt from health problems!
There are several "breeders" who claim "hybrid-vigor" for the dogos. Hybrid-vigor is a myth. Crossbred dogs are NOT exempt from health problems that their purbred relatives experience. (Although the Dogo Argentino originated from the crossbreeding of 10 different breeds, they have been considered a purebred and registered breed of dog for over 50 years.)
Health problems that the Dogo Argentinos are prone to are:
Allergies -- please see my allergy page
Deafness -- please see my BAER page
Cardiac Issues -- congenital heart disease has claimed the life of several dogos here in the US. It is thought that these conditions are hereditary. Most heart defects can be detected at birth by experienced veterinarians.
Hip Dysplasia -- see links and info below
Thyroid Disorders -- hypothyroidism can occur between 2-5 years of age & causes an autoimmune disorder. This IS hereditary.
Torn ACLs -- I know of 3 Dogos in AZ alone who have had torn ACLs -- the dogs are all un-related. Is it genetic?
Tumors and/or cysts -- very common in dogos over 5 years, especially females who have gone through heat cycles and/or been bred.
Cancer -- IMO, one of the leading killers of the dogo. I know of dogos who have died from breast cancer, testicular cancer and lung cancer.
Sensitve paw pads -- you'll notice that some dogos limp, not due to joint or muscle issues, but due to sensitive feet. Percautions need to be taken to prevent torn pads.
Kidney failure -- I personally know of 2 un-related dogos, both imports, here in AZ who died before a year of age from kidney failure.
Digestive problems -- many dogos have loose stools and/or diarrhea for much of their puppyhood and sometimes well into adulthood.
Canine HOD -- this is a bone/growth deformity that can occur between 8-20 weeks of age. It causes extreme soreness and lameness, and if not treated, can be crippling. The cause is unknown. It has been suggested that it is due to a Vitamin C deficiancy. Other theories state that it is a genetic disorder.
Bloat or twisted stomach -- almost always deadly.
Compacted Anal Glands -- in rare cases, they may need to be removed. I personally know of 4 dogos who need to have their anal glands regularly expressed. More info on my grooming page.
Weak Immune System -- This is NOT uncommon & is NOT always linked to thyroid disorders. Dogos with weak immune systems are more susceptable to yeast infections, eczema, demodex mange, food allergies, arthritis, ear infections, slow healing wounds and fertility disorders.
Demodex Mange -- all dogs have mites, due to weak immune systems, the Dogo's body often tries to fight off the mites which causes a bad case of "Demodex." Although mange is NOT hereditary, it is thought that the predisposition to mange is.
Cleft Palates -- this is an opening between the mouth and nasal passage -- although this is not unheard of for the breed, it does happen & most breeders choose to euthanize their pups with this condition.
Hydrocephalus -- "water on the brain" is not unheard of in the Dogos, but is a rare condition where most pups born with hydrocephalus are either born dead or die w/in the first few days of life. Those who survive have a domed skull much like a chihuahua.
"Argentine Dogos" are ranked as the 12th most likely breed to develop Canine Hip Dysplasia (CHD) according to

OFA

. All responsible breeders test their Dogos for CHD (To ensure genetic diversity for the future of this breed, I am not against breeding a quality dogo who does not pass OFA. Dogos have a high pain tolerance and often only exhibit signs of radiographic hip dysplasia, not physical). As of 2005, only 72 dogos in the last 20 years have CHD free X-rays. Close to 50% of all Dogos (who had hip X-rays done) born between 1998-2001 were dysplastic. It will be real interesting to see how the hip X-rays turn out for dogos born between 2002-2006. Hip X-rays can either be submitted to PennHip or OFA, all eye exams are submitted to CERF & results displayed on OFA's site.
Health Certificates held by my dogs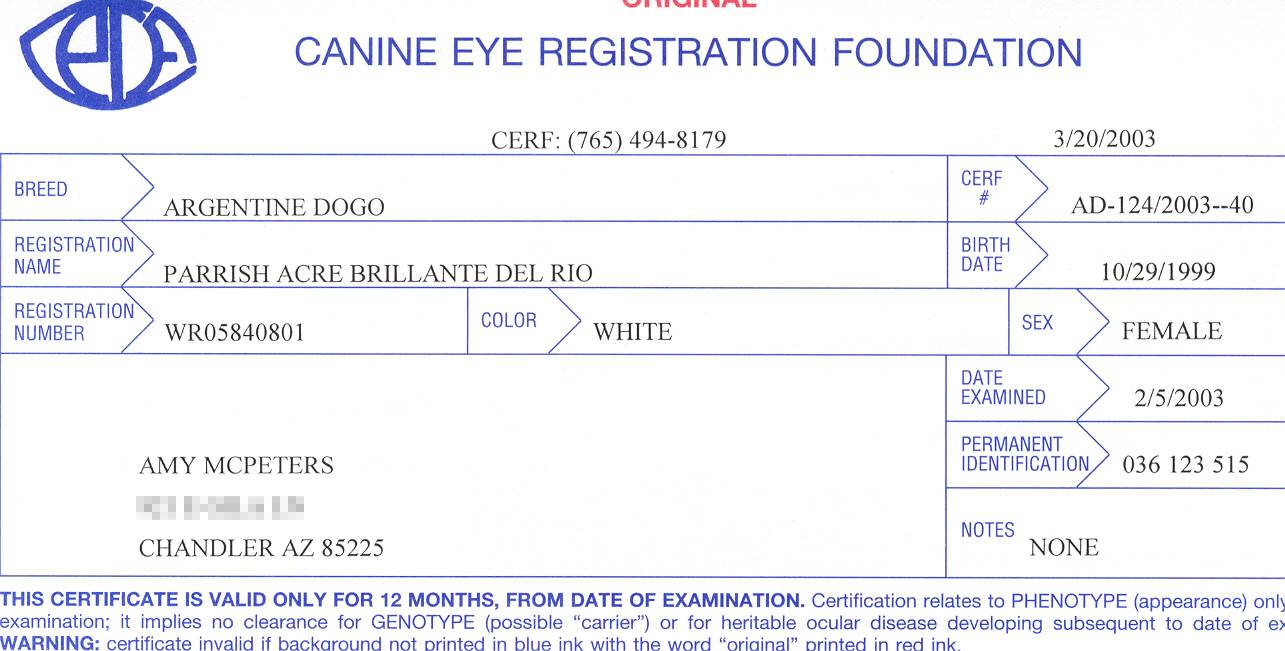 Bri's CERF number indicates that she is only the 24 Dogo to ever be CERF certified
OFA & CERF both have on-line records of all of the dogs who have ever been CERF or OFA certified. To search for OFA records, go to
http://www.offa.org
To search for CERF records, go to
http://www.vmdb.org/cerf2.html
No need to type in a name, after hightlighting "Argentine Dogo" just click on enter -- there are only 72 dogs listed as of 2005.
Bri, her mother and both maternal grandparents are all OFA and CERF certified.
Currently PennHip does not have online records, but as of May 24, 2003, the X-rays of only 22 Dogos had ever been submitted, and only 11 of those were CHD free. More information on PennHIp can be found at
http://www.vet.upenn.edu/research/centers/pennhip//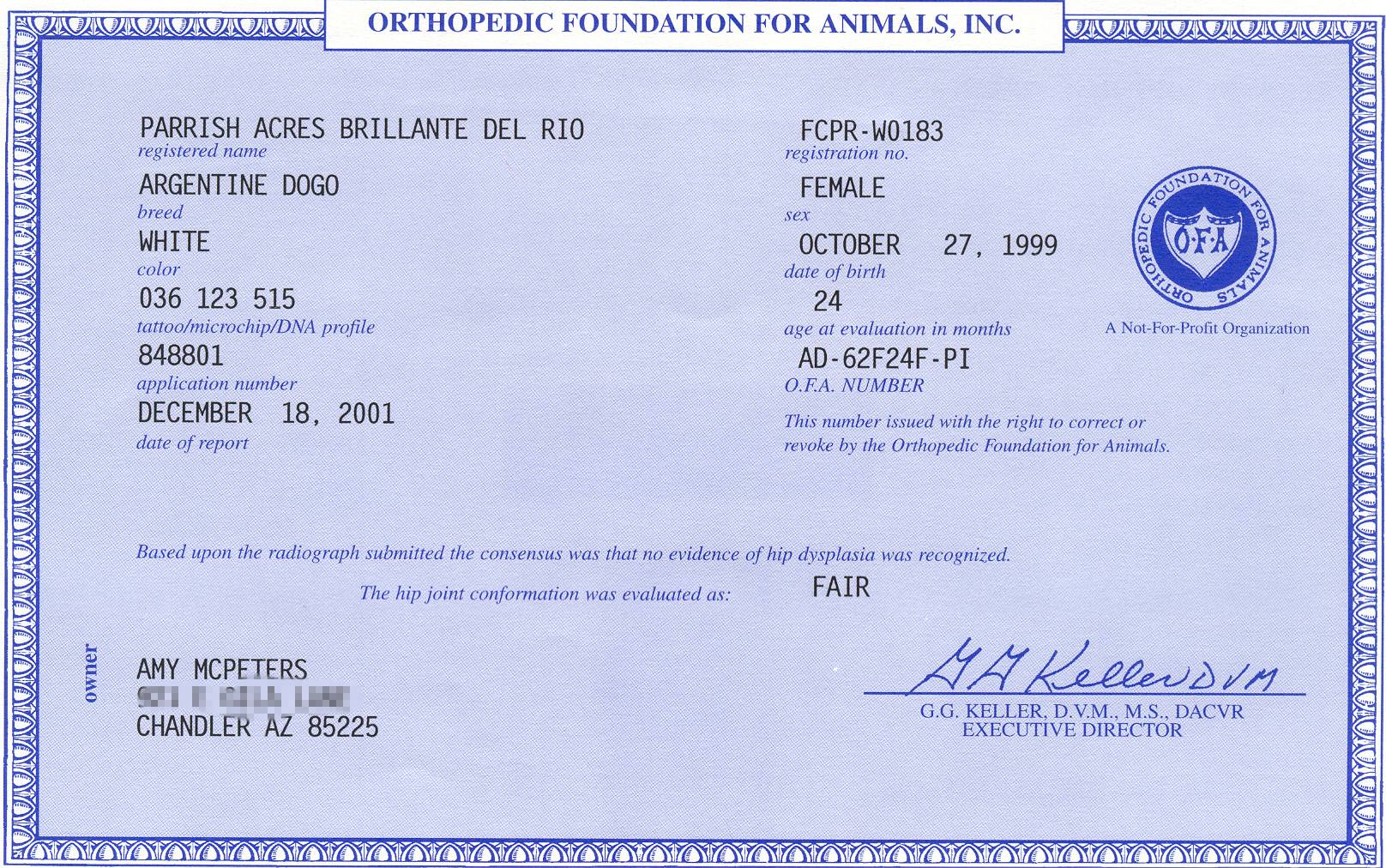 Bri's number: AD-62F24F-PI indicates that she is the 62nd dogo to ever have OFA certified hips